P7W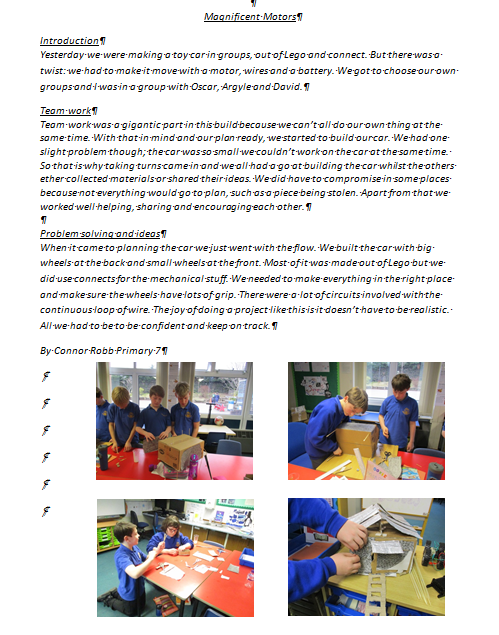 January: Rocket Science

February: Electric Circuit Cars

Magnificent motors
Introduction
Yesterday we were making a toy car in groups, out of Lego and connect. But there was a twist: we had to make it move with a motor, wires and a battery. We got to choose our own groups and I was in a group with Oscar, Argyle and David.
Team work
Team work was a gigantic part in this build because we can't all do our own thing at the same time. With that in mind and our plan ready, we started to build our car. We had one slight problem though; the car was so small we couldn't work on the car at the same time. So that is why taking turns came in and we all had a go at building the car whilst the others ether collected materials or shared their ideas. We did have to compromise in some places because not everything would go to plan, such as a piece being stolen. Apart from that we worked well helping, sharing and encouraging each other.
Problem solving and ideas
When it came to planning the car we just went with the flow. We built the car with big wheels at the back and small wheels at the front. Most of it was made out of Lego but we did use connects for the mechanical stuff. We needed to make everything in the right place and make sure the wheels have lots of grip. There were a lot of circuits involved with the continuous loop of wire. The joy of doing a project like this is it doesn't have to be realistic. All we had to be to be confident and keep on track.
By Connor Robb Primary 7
Christmas Show
P6 and 7 teamed-up for 'Christmas is Forever'. Well done for all the hard work, which resulted in a really impressive show. Happy holidays!
Thanks to Mr Cohen from The Watermill Bakery in Blair Athol, the P7W class were baking bread today. As well as putting Maths and Science skills into practice, Mr Cohen told us the story of bread from the Jewish perspective, which was fascinating. This was all part of the 'Nourish' project for Book Week Scotland. Many thanks also go to Mrs Sherriffs, Mrs Radford (school library) and Mrs Wilkie (Home Economics). The children loved it!
Mr Whatley
Super Spitfires by Rosie Morrogh Bernard P7
This week we have completed our super Supermarine Spitfires, we had to paint our spitfires. First we had to paint the underside of the plane light blue and above dark blue and green. After we stuck the circles with British colours on, we went on the internet to search how planes flew. I paired up with Rebecca and we found the answer quite quickly on google, the answer is; speed, weight, aerodynamics and lift on the wings. The next day I got a fright when Mr Whatley had hung the planes to the ceiling! When Rowena sat up from her chair she hit her head on the plane above her, I don't want to lie but I did giggle a bit.
I have definitely upgraded my confidence, when I did my Anne Frank presentation, I felt really nervous when everyone was looking at me but I knew I had to do it just like everyone else. I was relieved to know that I was up there for under 5 minutes. Earlier this week I also had to say a sentence in front of assembly about my presentation ( it was not as bad as I thought.) I'm glad I'm working on building confidence because this time last year I would never have even thought about speaking in front of the class.